We have our own staff who are fully trained to fit gate automation.  We fit CAME systems which are high quality and reliable with various automation options available, please do give us a call to discuss this.  Without having to rely on subcontractors we offer a smooth install with one company doing one job;  manufacture, installation and automation .
CAME are leading automation manufacturers with a good safety and reliability record.  Their products have in built sensors which ensure the gates move back in the opposite direction if they come up against an obstacle.  We also offer all of our customers a full gate service annually to ensure your gates are maintained properly and have an emergency call out facility.
Above ground automation 
We normally fit above ground Ram automation systems for standard opening gates.  These models we use are manufactured by CAME and are designed to easily handle the weight of our gates.  There are many other systems on the market but these are particularly reliable and have sensitivity built into the design, meaning if the gates come up against an obstacle, the gates stop and move away in the opposite direction.  Combined with the photocells this ensures safety as well as reliable operation is at the top of the criteria.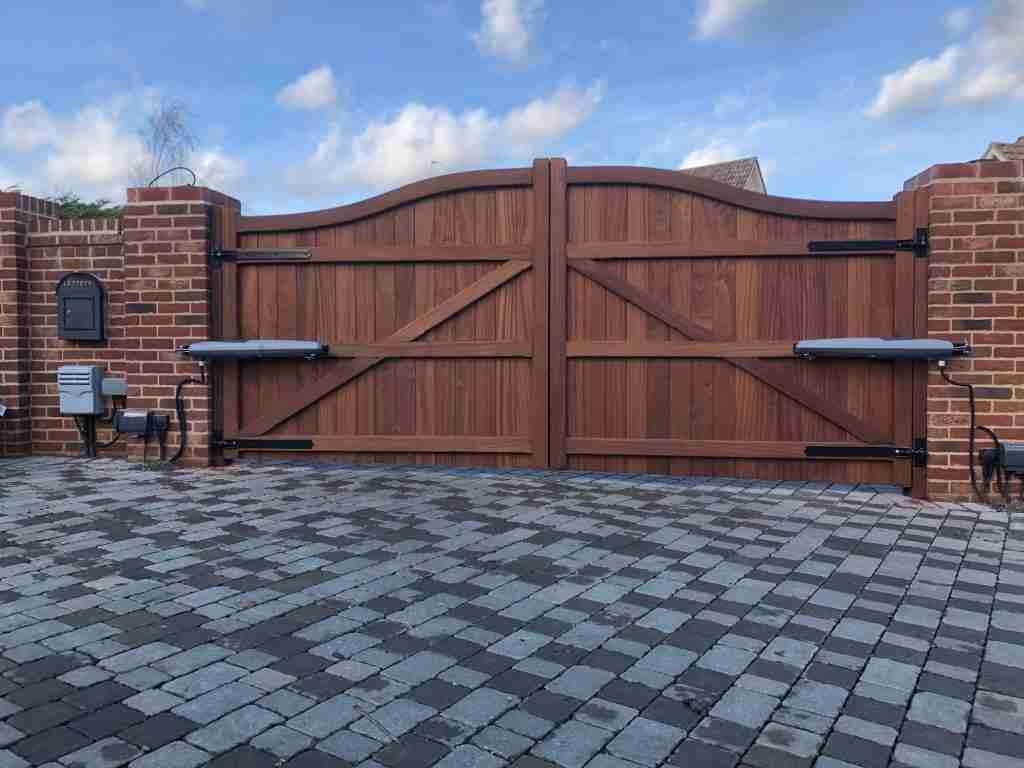 The above image shows the outdoor plug socket on the left which is all we require to be fitted to fit your automation, along with the grey box which houses the control panel. The arms are always fitted halfway up the gates rather than at the bottom, this ensures that the gates pressure is spread evenly and avoids future issues.
We can advise on the most appropriate sized arms for your gates. We can also manufacture and fit matching side gates for any of our driveway gates, in many situations it is advisable to have an alternative pedestrian access as well as in the image below.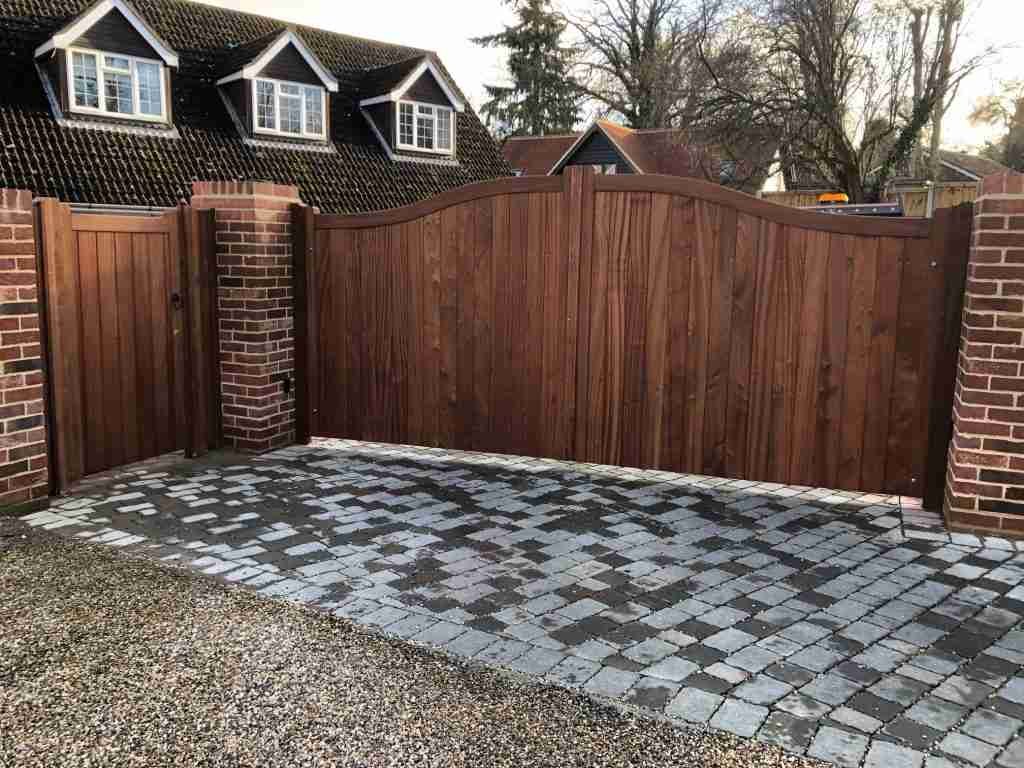 Please have a look at our automation gallery for more images of our previous gate automations.
Sliding automation 
In some situations above ground Ram systems will not work and a sliding operated gate works better.  Again we fit a CAME motor which is more than capable of moving the weight of our driveway gates.
The fitting of this is slightly more involved as we will fit a self cleaning rail into the ground for the gate to slide along.  It is important for sliding gates that the surface along which the gate travels is flat, so for this reason we sometimes need to do further groundwork's as in the image below.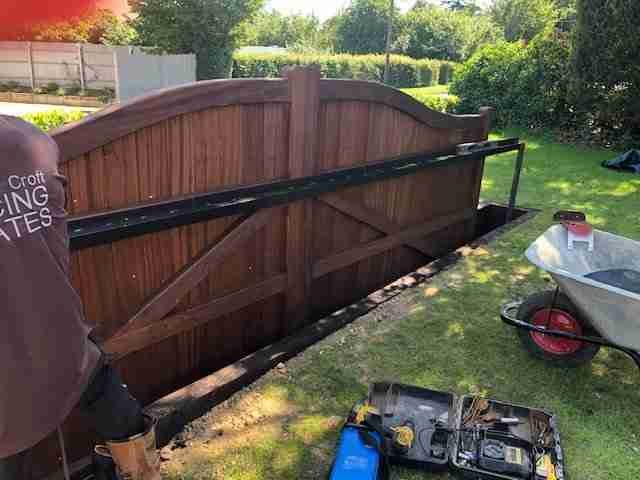 The frame allowing the gate to slide is partially built in our workshops and then fitted and welded on site.  The CAME systems have the same inbuilt safety feature as the above ground systems which ensure the gate travels back in the opposite direction if it meets an obstacle.
For underground automation we make a small amendment to the position of the bottom bar so do let us know if you are ordering gates only for this type of automation.
Please have a look at our automation gallery for more images of our previous gate automations.
Entry System recommendations 
You don't have to have an entry system if you are automating your gates, but they can make for more convenient operation.
We offer two systems, either a standard keypad option which allows you to set up a four digit pin to allow access for any extra regular guests who you might not want to give an automatic entry fob to, such as a handyman/cleaner.
Or the more popular GSM entry system, when a caller presses the button at the gates, the telephone then rings a pre programmed list of mobile numbers.  The gates can then be opened from your mobile phone.  This system is also supplied with a keypad to allow access as above.
The gate can also be called by a (pre-programmed) mobile number as the gates are approached e.g. through a car voice recognition system as you are approaching them down the road, which can eliminate the requirement for multiple keyfobs.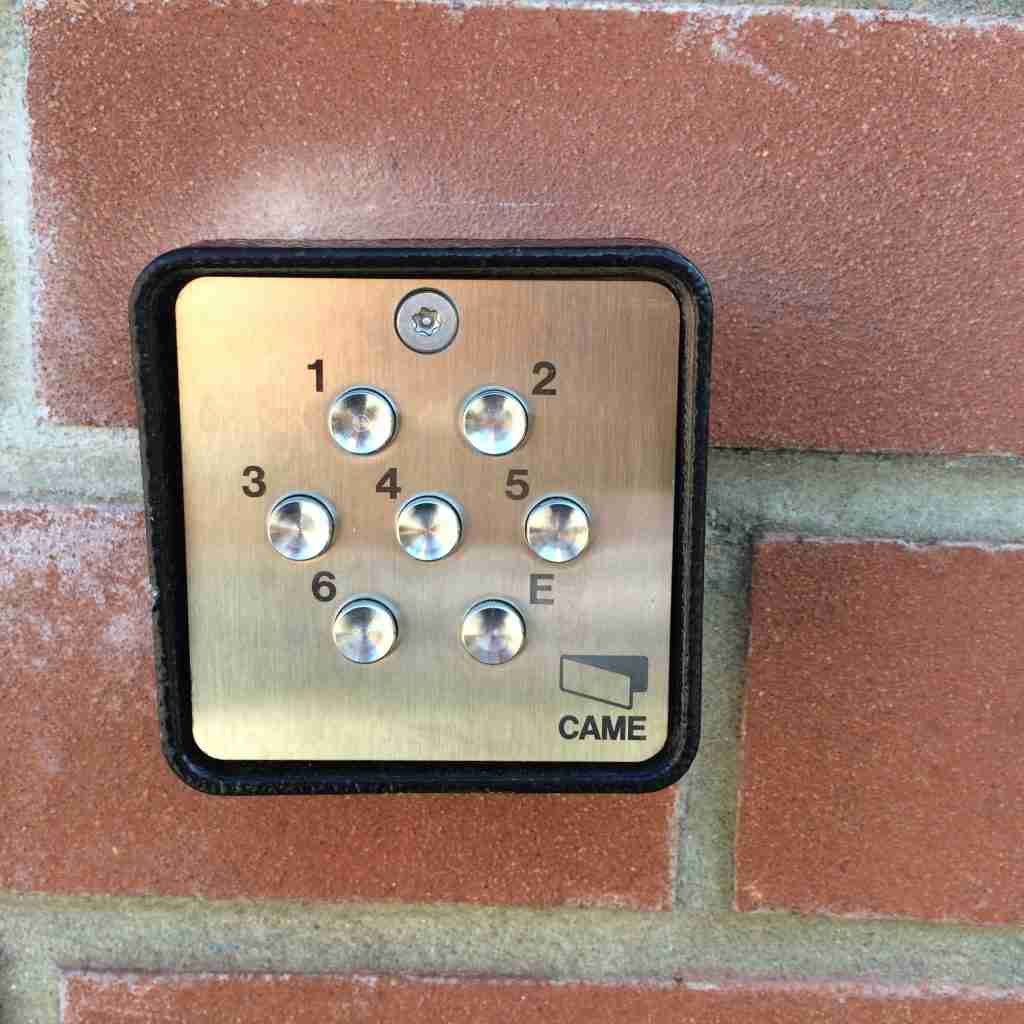 This system works like a pay as you go mobile phone and has a top up card with an initial £10 credit which can be topped up.  It can be transferred to a contract but we find this is rarely needed as many calls are free of charge as your installer will explain.
We know this can all seem complicated to begin with but all of the above can be discussed in more detail at a site visit prior to installation, or you can just give us a ring or pop in and we can explain it all to you.