Softwood Timber
Our softwood gates are manufactured using the highest-grade Scandinavian Redwood we can purchase.  If retreated every year with suitable wood preservative, they should last many years.
Softwood timber is cut from fast growing trees and so will have knots in it.  It is a different grade to fencing timber though and the knots will not fall out, although over several years they will become dry.  You can treat your gates with a Danish or linseed oil which will improve this.
Hardwood Timber
Our hardwood gates are manufactured from a high grade Sapele timber.  This timber is a type of mahogany and is particularly suitable for outdoor gates as it is very stable.
A hardwood gate is significantly more expensive than a softwood gate however it could last double the life of a softwood gate.
Hardwood is cut from a slower growing tree and there will be little or no knots in our hardwood gates. Hardwood has naturally occurring oils in it and so does not necessarily require treatment.  Although, we do always recommend treating our hardwood gates.
Treating your gates:
The treatment we use is a spirit-based treatment which is very thin, the consistency of white spirit and this will absorb very quickly into the gate.  It will run down the gate on application, but will not leave runs as such, so is a quick and easy job.  We would recommend 2-3 coats per year. We sell tins of this treatment Here.
The images immediately below show softwood gates treated with chestnut (dark) brown (left) and golden (light) brown (right). The images below that show hardwood gates treated in chestnut (dark) brown and golden (light) brown. The hardwood used does not show quick such a dramatic difference in colour after treatment as you can see.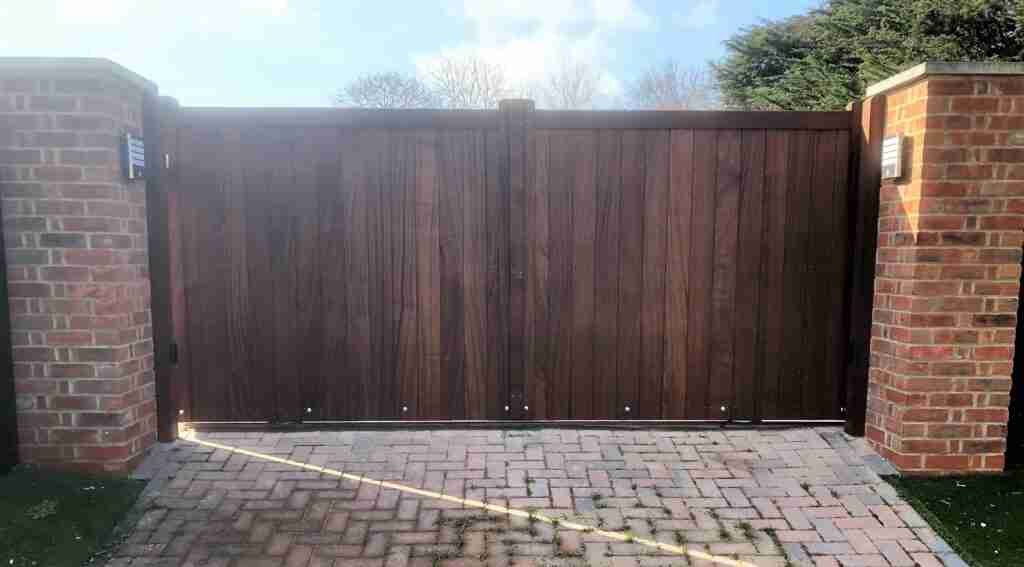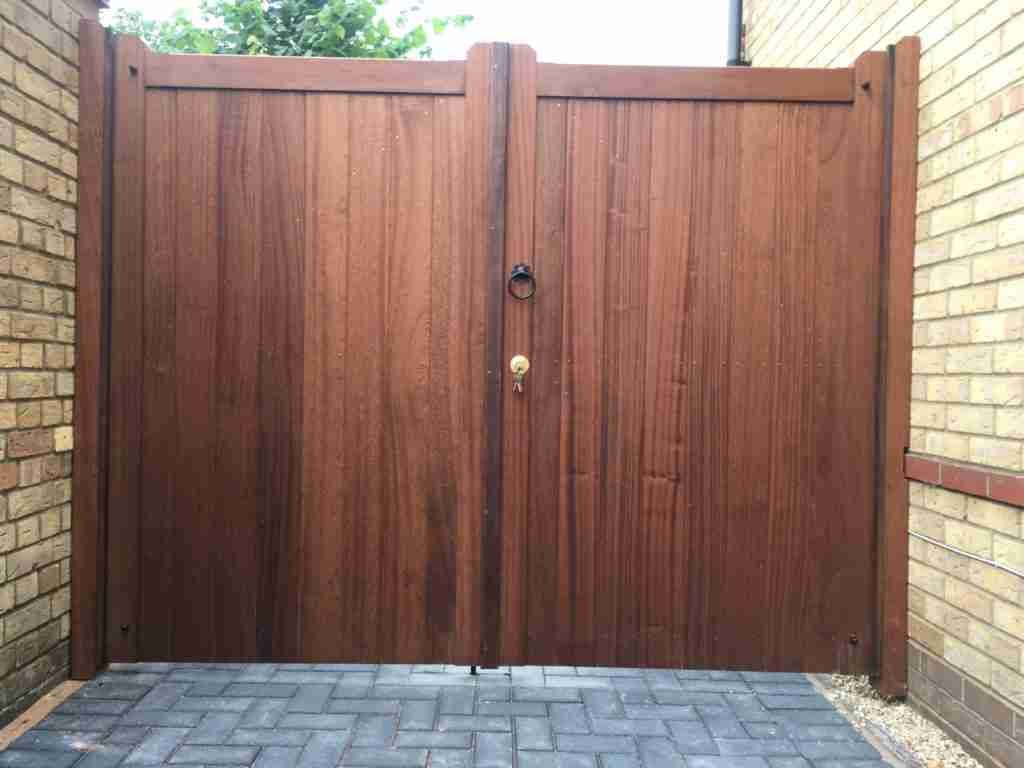 Treatment & prolonging the life of your gate 
Any timber gate, whatever type of timber if it is left outside will eventually go a silvery grey colour, similar to the colour you see on many old fence panels.  Some people like this colour.  If you want to retain the colour in your gate however you will need to retreat it.  Retreating the gate will also make it last longer. 
It is impossible to say how long either gate would last as it is determined by the conditions it is in i.e. shaded/full sun and how well it is maintained and also the thickness of the timbers used in its construction and the actual construction techniques which can be completely different from gate to gate.  We have seen many of our softwood gates which have been well maintained last well over 10 years.